Keeping players engaged and continuously betting on the game is the number one priority of any betting operator. And how do you keep them engaged? Providing engaging and informative information they may seek is one way to do it. And what better way to do so than by using sports widgets?
In this article, we will discuss the essence of sports widgets, what they can do for your business, and how to purchase the best sports widgets available on the market.
What are Sports Widgets?
Sports widgets are a great way to improve your website's performance and keep visitors on your site for longer. They will surely come back to your site if they know that you can provide them with what they need.
Sports fans expect to be provided with the most comprehensive ways of following their favorite sporting events. They are looking for more than just a broadcast of the event or some simple commentary. They want to have access to the highest-quality sports data, scoreboards, live scores, and statistical comparisons that will create a unique experience for them.
Whatever sports your audience is interested in, sports widgets are the solution that allows you to provide them with exactly what they need:
The most relevant data,

Real-time coverage of all incidents on the field,

Statistical comparisons,

Standings,

Hints,

And much more!
Sports widgets are an extremely useful and reliable solution for online media, betting operators, sports news websites, and all sports-related businesses that need to keep sports fans and viewers entertained and engaged. They are easily integrated and reliable, with the most relevant data being delivered in real-time.
The Types of Sports Widgets
Several types of sports widgets may help boost your business initiatives:
Daily Matches

- Provides users with live and upcoming matches, as well as their results

Timeline

- Follows the progress of the match, delivered with key events.

Stats

- Displays the events of the match.

Line Ups

- Shows the starting lineups and match substitutions of the game.

H2H

- Displays the comparison of two teams' performance, efficiency, and past matches.
How do I Get a Sports Widget?
If you are looking for a place to get sports widgets, you are either a newbie in sports betting or starting your sports-related business. Alternatively, you might also be a sports fan who wants to have essential data about your favorite team in the most convenient way possible.

Sports widgets are an extremely useful and reliable solution for online media, betting operators, sports news websites, and all sports-related businesses that need to keep sports fans and viewers entertained and engaged. Not only can you find widgets, but also 30 years of historical data, stats of 21 covered sports, live scores and live results, and so on. It's all here for you!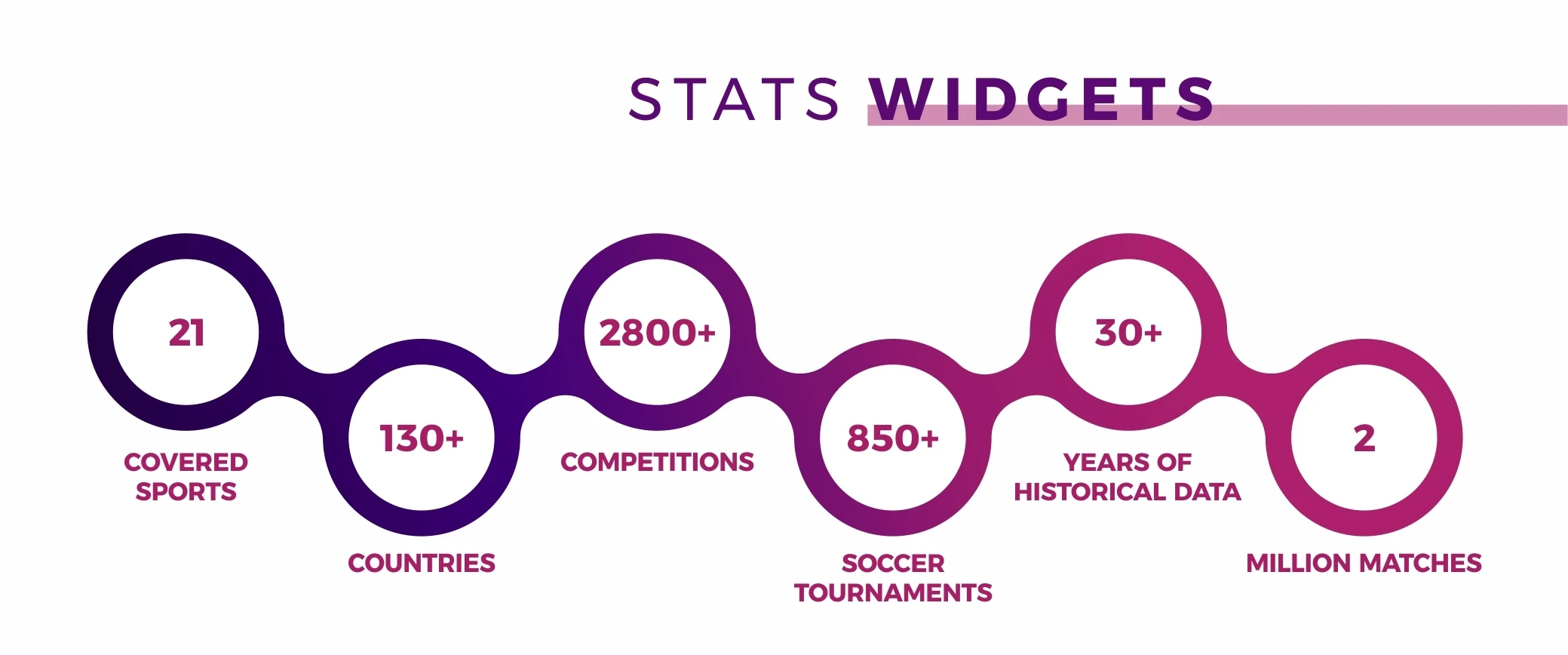 On the other hand, if you are a passionate sports fan and want to have precise stats regarding your favorite team, there are several apps you can use.
Is there a Sports Widget Available on Android and iOS?
Sports technology is a massive, growing industry that is expected to reach a market value of USD 36.2 billion by 2028. Smartphone apps designed for fans make up a key component of the sports tech sector.
There are many reasons why sports app development is so profitable: from the sheer number of users to huge sponsorship deals among clubs and tech companies alike. The teams themselves are often involved in sports app development: they invest in or acquire their digital products to improve the fan experience, boost revenue and increase team visibility across different channels.
In the past few years, there's been an explosion of smartphone sports apps that allow users to follow sports news, review play-by-play events for the games they follow, stream video, and analyze statistics of their favorite sports.
These apps have opened up a world of information and entertainment via widgets to fans who don't have time to watch or read about the game on TV.
How to Use a Sports Alert Widget?
You can get live scores, stats, news, and alerts for MLB, NFL, NBA, NHL, CFL, soccer, tennis, golf, NCAA football & basketball, and more by using Sports Alerts. Moreover, a lot of TV companies have introduced sports alert widgets, available from their home screen.
Here are some sports alert apps:
NBC Sports App

You can get NBC's coverage of soccer and hockey matches in the U.S. This app is available for Android and iOS devices.



Yahoo Fantasy Sports

Available for Android and iOS devices. This app has the best news coverage of any fantasy sports app out there. It also allows you to draft your team directly via the app if you are playing in Yahoo leagues (more on that in a minute).



ESPN Fantasy Sport

You can get access to ESPN's fantasy football leagues through this app. It is available for both Android and iOS devices.
Sports Data Providers
Most sports betting websites rely on sports data providers to power their services. A sports data feed provider can offer a wide range of sports widgets to enhance the user experience on your site. They provide quality data feeds that are simple to install and cover all major sporting events around the world.
They offer up-to-date data coverage for all the major events, so you never miss out on anything important in the world of sports! This is one of the most compelling reasons why you should invest in a quality data feed service from a leading provider.
Here are some major benefits of working with a reliable sports data provider:
Existing Data Feed – It is easier to get started when you work with a provider that offers an existing data feed since they make it easy to integrate the feeds into your current system. They offer more than just live scores and sports widgets. They also include historical data, pre-match odds, and results; making it easy for you to put together a complete website or sports app.


Customization – A good sports data provider makes it possible for you to customize their feeds according to your needs. This means you can display the information in different formats or even create your APIs. You can also decide what type of information you want to display on your site.


Versatile Coverage – Get a provider who offers unrivaled coverage of most major sporting events across the world; this will make it easier for you to display information about different competitions including football leagues and golf tours.


Support

– It is important to work with a provider who offers 24/7 support, especially if you run into issues such as downtime or server problems that need immediate attention.
Final Thoughts on Sports Widgets
Sports widgets are one way to increase the level of engagement with your website. Widgets are generally used by die-hard fans of a particular sport who want to stay updated about the recent happenings of their favorite sport at any given time.
As you can see from the above, you can pursue sports widgets from a sports data provider. You can learn more about providers and decide which one would be best for you. I hope this Sports Widgets article has been helpful!
---
Written by Sofi Grigoryan
Sofi Grigoryan is a content writer at Feedconstruct - the top company specialized in delivering sports data. Having a deep understanding of the sports data landscape, Sofi uses her skills to create both compelling and informative content.