A lot of people nowadays suppose that esports is the new era of the gaming industry. While they are not entirely wrong, esports has been around for quite some time. Taking a little tour through the history of esports, 1972 was the year when the first-ever esports event was held. At Stanford University students competed with one another in a game called Spacewar. Nowadays, the prize money for esports tournaments is up to an average of 200.000$ (Fortnite) but back then the price was a year-long subscription to Rolling Stone magazine. Even though the first tournament was held in the 70s' it took two decades to coin the term 'esports' and held the first 'real' esports event: the 1997 Red Annihilation Quake tournament. 200 participants competed for the grand prize Ferrari 328 but the luck was on Dennis Fong's side on that day. 
Fast forward to 2020, when the total esports revenue is at $950.3M with 10.4% audience growth over a year. Esports audience growth presented by Newzoo has the following image: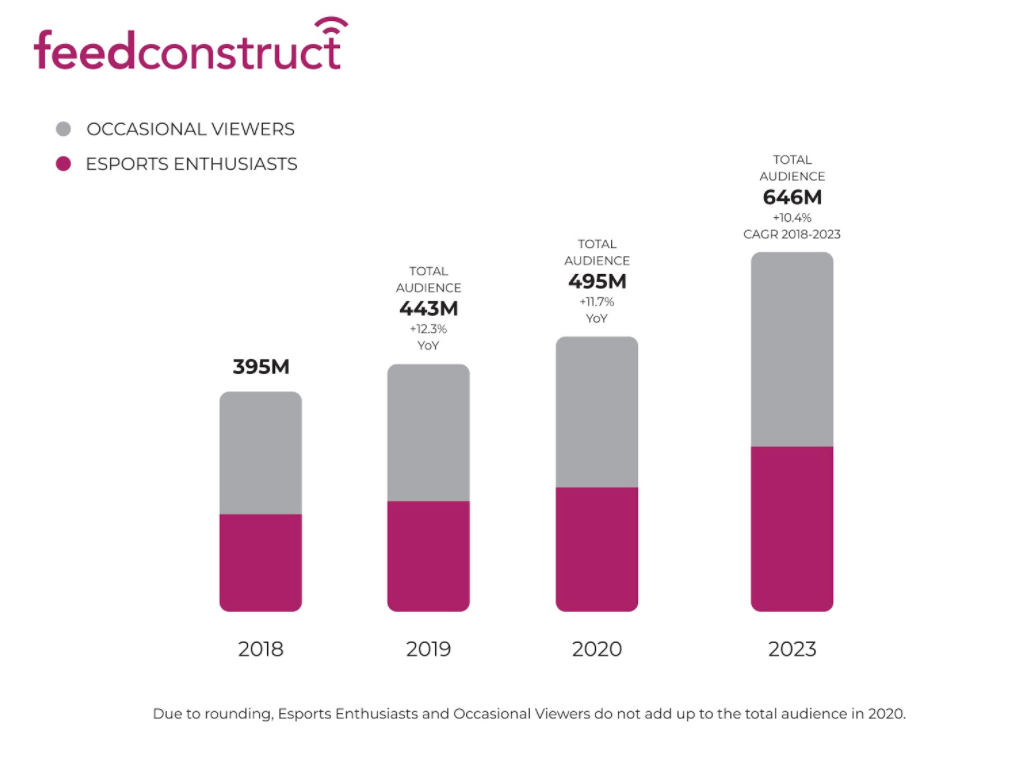 It is due to the growth of esports viewers that data-providing agencies on a par with betting operators built a large industry. There are multiple reasons why betting is popular among esports enthusiasts. For instance, eSports are very dynamic and unpredictable, thus making betting lucrative and exciting. Also, the generation that grew up playing video games is now old enough to bet on esports. ESports continue to grow at massive rates, even the International Olympic Committee acknowledged the possibility of eSports becoming an Olympic sport. With all this in mind, data-providing companies tend to deliver the best content for eSports lovers. To give the best betting experience, FeedConstruct offers its sports betting data feeds and live video streaming services that have gained popularity among betting operators. Dozens of stadiums are being rented for esports tournaments that grow in popularity and size every year. With this extension, betting operators and data feed solution providers seek to enlarge their offers and drive more traffic by enlarging their distribution channels. You can get familiar with the history of eSports Betting as well.
The List of Esport Tournaments
When talking about the most anticipated tournaments of eSports, few make the fans hold their breaths. With Fortnite on the top of the list, Epic Games delivers one of the highest prize pools of all time: $100 million. Next in line is the world championship for Dota 2. The total prize pool for last year's event was $34 million. No wonder, the championship is so popular. The last to the trio is the LOL World Championship: the annual world tournament of the popular game, League of Legends. BlizzCon 2020 is the most popular gaming convention around the world. 
Those who play Overwatch are always looking forward to the annual esports tournament organized by Blizzard Entertainment. In the preliminary stage, eSports teams from any country can participate, but only five teams move to the next stage. 
No wonder why the demand is growing for eSports with such amazing events to look up to.
Esports During Covid-19 
Another boost for eSports and related industries was the pandemic. What was a devastating experience for Real Sports was an opportunity for data-providing companies and bookmakers to enlarge their audience and drive monetization to iGaming. FeedConstruct as well turned its focus on esports to give the fans of traditional sports a scoop of new emotions. Even though eSports haven't met a temporary increase during the pandemic, it has been around for decades and has its base for future constant growth with its streams. That is what makes eSports the joyful corner in the digital world you are always welcome to check.
Esports Future in iGaming
ESports have a promising future full of further development and new directions. One thing we are sure about is the increase in diversity and inclusivity. An issue that is present in all sports is the lack of diversity, but in esports, it is missing. Game developers are determined to create games that will catch others' attention and provide a richer gaming experience. Refreshing and original content is what iGaming needs to grow its distribution channels. This change will accordingly benefit the data feed solution providers and bookmakers as new betting markets will emerge in the gaming sphere and by that the demand for exclusive content providers will rise. 
Also, above mentioned the fact that Esports has the potential to go to the Olympics which will be a huge deal for global fans. NewZoo's Esports predictions for 2021 also include some interesting aspects like the increase in League of Legends viewership and a dedicated stadium for esports in the world's 10 biggest capital cities. 
Well, the generation of esports is truly looking forward to the realization of these predictions. 
Conclusion
Any company that has an interest in eSports must be aware of events and progress happening in the esports and iGaming industry. From the brief history of esports to the attitude of the fan base towards its development, it is core to be familiar with what might be a diamond in disguise. At FeedConstruct data feed solutions go hand in hand with time and technology.


---
Written by Sofi Grigoryan
Sofi Grigoryan is a content writer at Feedconstruct - the top company specialized in delivering sports data. Having a deep understanding of the sports data landscape, Sofi uses her skills to create both compelling and informative content.
Explore More
How to Grow a Betting Business By Using Virtual Sports?
How to Grow Your Betting Business: the Must-Have Products.
How Do Sports Statistics Help in Creating Sports Odds?