Over the past few years, OTT took over the world in an accelerated manner, and many of us did not realize how it started to cover various spheres. To make the process behind OTT understandable, we will go over A-Z to cover the essential knowledge behind over-the-top technology. After reading this article, you will find out:
What is OTT?
The uses of OTT
How to monetize and benefit from OTT
The future of sports video streaming
What is OTT?
OTT refers to any streaming service that delivers content over the internet, over-the-top (OTT) of other platforms, bypassing cable, broadcast, and satellite television platforms. OTT provides video content at the request and suits the requirements of the individual consumer. It has various advantages, including compatibility with multiple devices, consumer freedom, and distribution of original content.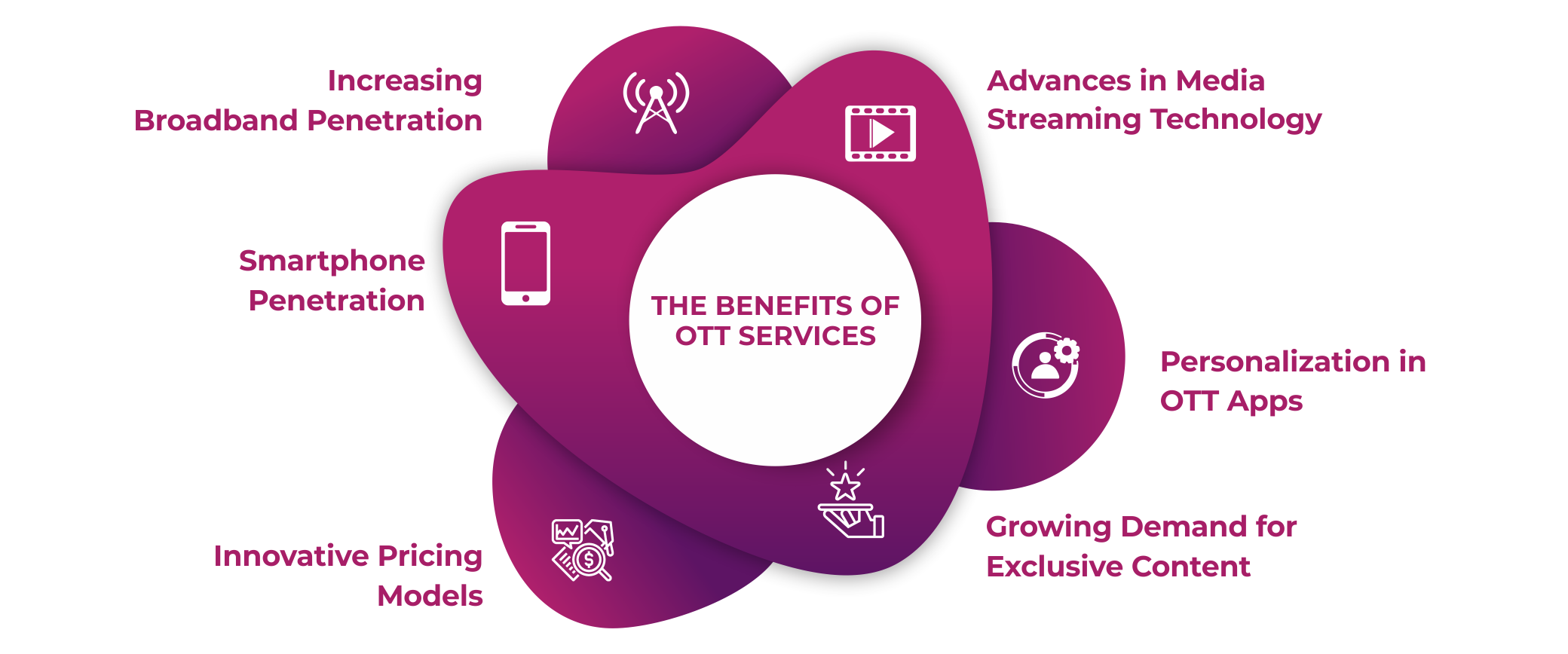 The Uses of OTT Video Streaming
The content distributed via the OTT platform breaks into two main categories: Video on Demand (VOD) and LIVE video streaming. VOD is the archived content, ready for the viewers to watch when they choose, rather than watch scheduled broadcasts. For VOD, content chunks are a bit longer, and that makes the process more efficient. While it is being viewed, players can cache larger pieces of content far enough. LIVE is a live video streaming of content, such as a sporting event, for the consumer to view in real-time. For LIVE, the players cannot cache as far ahead, making the streaming of LIVE content at high quality and low latency.
As OTT helps stream globally with low latency, sporting organizations used it as the primary method of content distribution during the COVID-19 outbreak when fans were not allowed in the stadiums. Leagues and federations started using OTT platforms to monetize sports content and cover the damage created due to not selling tickets. According to a Research Dive report, the global over-the-top (OTT) market that accounted for $110.1 billion in 2018 is expected to garner $438.5 billion by 2026, growing at a healthy growth rate of 19.1%. The OTT market has already accumulated USD 155.6 Bn in the current situation.
A sample of key findings reveals:
23 % of the top leagues and federations now have an OTT service

Tier one sports rights are critical to the future of pay-TV providers

Innovative pricing and packaging models are principal to attracting cord-cutters and younger viewers
How to Monetize and Benefit From OTT?
OTT is a relatively new phenomenon, and there is a vast amount of growth potential. Lots of companies are entering the OTT space, leading to a wide variety of options for consumers. To start monetizing OTT video, content providers need an OTT platform to deliver their content. It then comes to configuring a payment option so one can monetize their video content.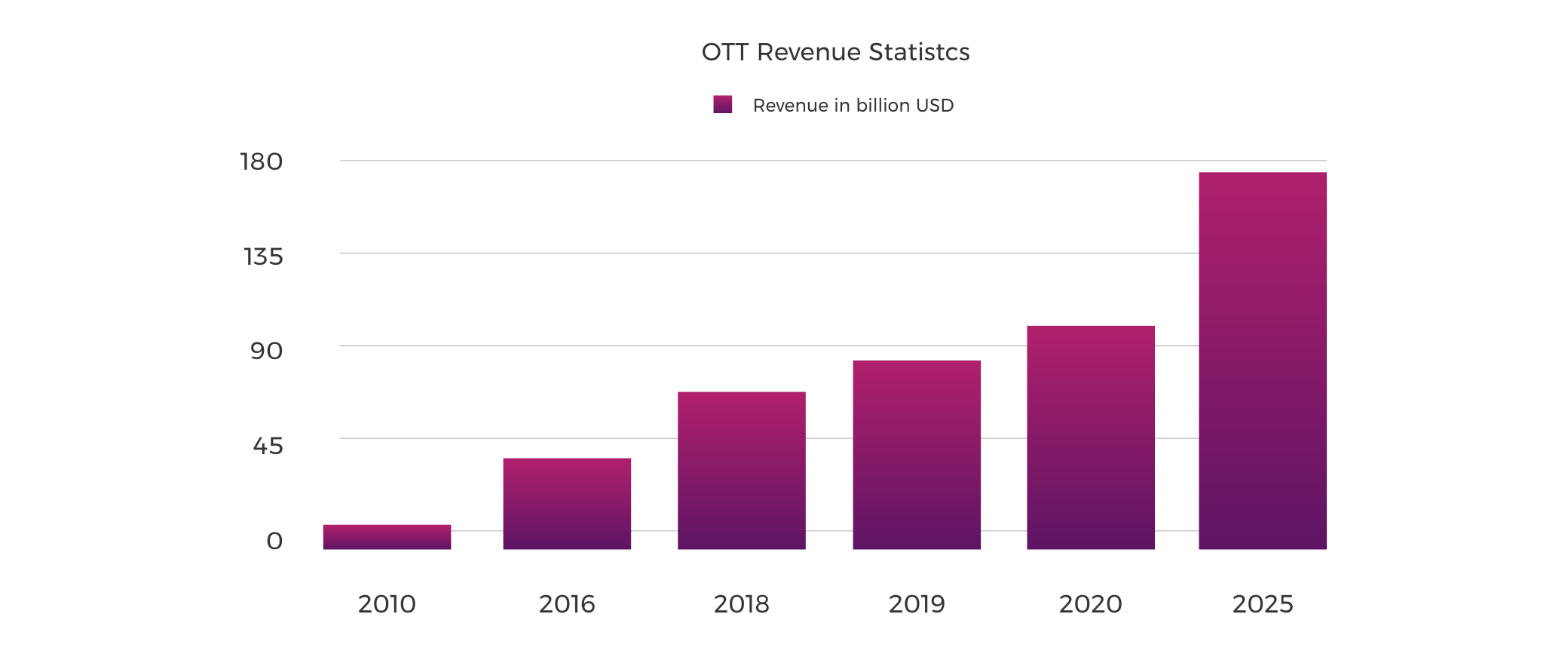 PPV (Pay-Per-View)
PPV gives the viewer the option to watch one piece of video content for a one-time fee. It can be the perfect way of introducing people to the content without expecting them to purchase a subscription plan. It is also an excellent way to attract a casual viewer – someone who does not necessarily spend a lot of time online but has spotted the brand and wants to interact.
PPV is extremely popular for sporting events as it allows the viewer to watch a one-off event without having to subscribe to watch a whole range of sports. A lot of sporting associations provide this option. For instance, when UFC first launched in April 2018, the UFC PPV events cost $59.99. That went up to $64.99. As of Jan. 8, 2021, the price of UFC pay-per-view events on ESPN Plus — the exclusive home of the mixed martial arts fights in the U.S. — will increase by $5 apiece from $64.99 to $69.99.
PPV is a great supplement to VOD for driving and prolonging viewer engagement.
Live Video Streaming
Live streaming presents a new wave of digital content promotion and content consumption. It is growing in popularity and user base every single day. That is the main reason content providers should care about live streaming.
Live streaming can be a powerful tool to spread sporting events that are so much in need of an audience from the start of the pandemic.
Concerts, sports, and awards shows are ideal for live streaming. However, they can also be syndicated on-demand by including highlights of the events.
When sharing the content to the OTT video streaming via a platform, it can be an asset to add extra content users would not have seen even if they had attended the event, like behind-the-scenes footage or an interview with someone notable during the event.
The Future of Sports Video Streaming
From the above-listed benefits and advantages of OTT channels, OTT video streaming is gaining momentum in sports. Fans are switching to OTT to watch sporting events conveniently on various devices.
Ultimately, improving the broadcast and OTT experience advances overall fan satisfaction, resulting in increased opportunities for better financial outcomes. More than 60 % of fans surveyed related a great broadcast experience to becoming more engaged with the team and being more likely to both watch and attend a game, and nearly 40 percent felt closer to team sponsors.
It looks like OTT is rising in popularity in sports, and soon each sports organization will have its own OTT channel to feel closer to fans and create new monetization channels.
Final Words About OTT
OTT is cutting the cord with the "TV anywhere anytime" thinking. It suits every sphere and promotes a rise in the sporting industry, raising the bar for each sporting organization, federation, and league to develop their streaming platform, whether it is LIVE content or a VOD. The best way to create a profitable and working OTT channel is by minimizing the capital spent on building one and letting specified sports data-providing companies take care of it. For instance, FeedConstruct provides a data-based, OTT solution for rights-holders, federations, and media providers to stream personalized sporting content in stunning HD for global users. With the OTT revolution happening, it is time to join the movement. Don't you think?
---
Written by Sofi Grigoryan
Sofi Grigoryan is a content writer at Feedconstruct - the top company specialized in delivering sports data. Having a deep understanding of the sports data landscape, Sofi uses her skills to create both compelling and informative content.


Explore More
Why and how to add live video streaming to your offer?
The Importance of Esports for Betting and Gaming Businesses.