The eSports Boom
We have talked about eSports before, but it is never enough to document the promising growth of eSports as a novice and attractive industry.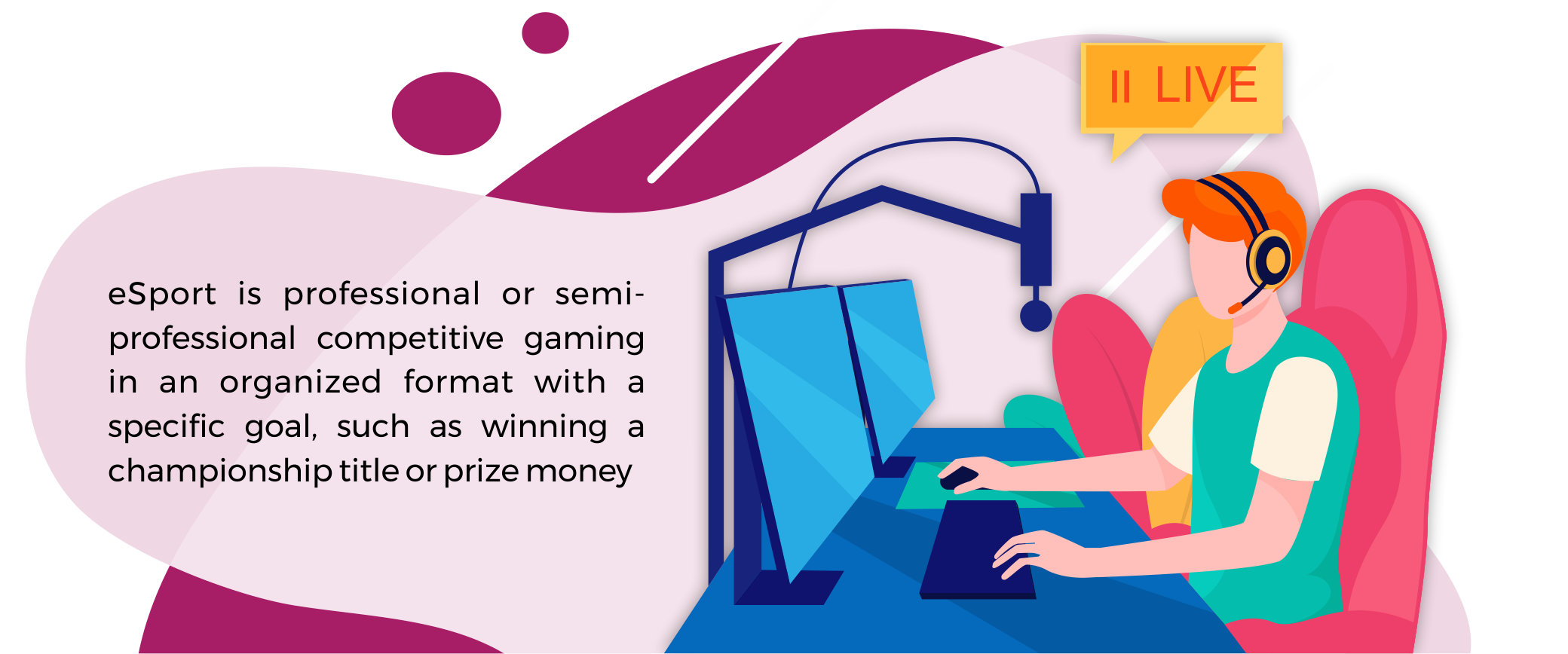 When it came into existence in the early 1970s, few could have predicted that eSports would turn into such a big deal with pool prizes ranging from $1,000,000.00 to $34,330,069.00.
Nowadays, many schoolchildren put in "videogamer" as an option for their future career, and trust me, they know the deal. A few eSports streamers reel in about $5,000 per month, but those are top-tier. With all of those sources of income combined, the average pro player takes in around $74,000 a year.
Moreover, according to Newzoo's report about eSports and the live streaming market, the eSports industry is expected to reach the $1.084 billion mark in 2021, which translates to a more than 14 percent growth for the eSports industry, which generated $947.1 million in revenue last year.
As the audience of eSports grows as well, Newzoo anticipates that the eSports industry will make $833.6 million -- more than 75 percent -- from their media rights and sponsorships due to an increase in the eSports live streaming audience.
Behind the Twitch and Douyu Streams
Much like conventional sports, eSports popularity growth is driven by viewership. Live Streaming plays a significant role in the gaming and eSports ecosystems. And last year, the pandemic disrupted the eSports and live-streaming markets alike, resulting in spiking viewership across all platforms.
eSports are generally live-streamed via platforms like Twitch, Youtube, Douyu, and Huya. These platforms also flourished as social hubs for many consumers, resulting in 11.7% growth caused by the increased time spent at home and social distancing requirements during the pandemic.
While the eSports market faced more challenges, it also managed significant growth, with markets and regions that previously had little-to-no eSports activity suddenly entering the scene and flourishing.
For instance, the gaming live streaming audiences for 2019 and 2020 were 593.2 million and 662.7 million, respectively. What started in 2020 has a huge role in the future as the global eSports audience is anticipated to reach 920.3 million by 2024.
eSports: Amateur VS Professional
Live streaming is divided into two main parts: non-organized competitive gaming and professional or semi-professional competitive gaming.
The latter is what the eSports market is all about. However, live streaming around non-organized competitive gaming is an exciting industry full of its very own developments and famous figures. Gamers live broadcast themselves playing online, and they gain some kind of celebrity status in the industry.
Even though the two industries differ by audience overlap, content, and monetization strategies, the lines are beginning to blur. For example, popular streamers are competing in pro-level eSports more often, and some tournaments allow their competitors to live-stream themselves competing.
Professional Esports Ecosystem
The eSports ecosystem is complex and varied. Thus we have visualized it to make it more comprehensive.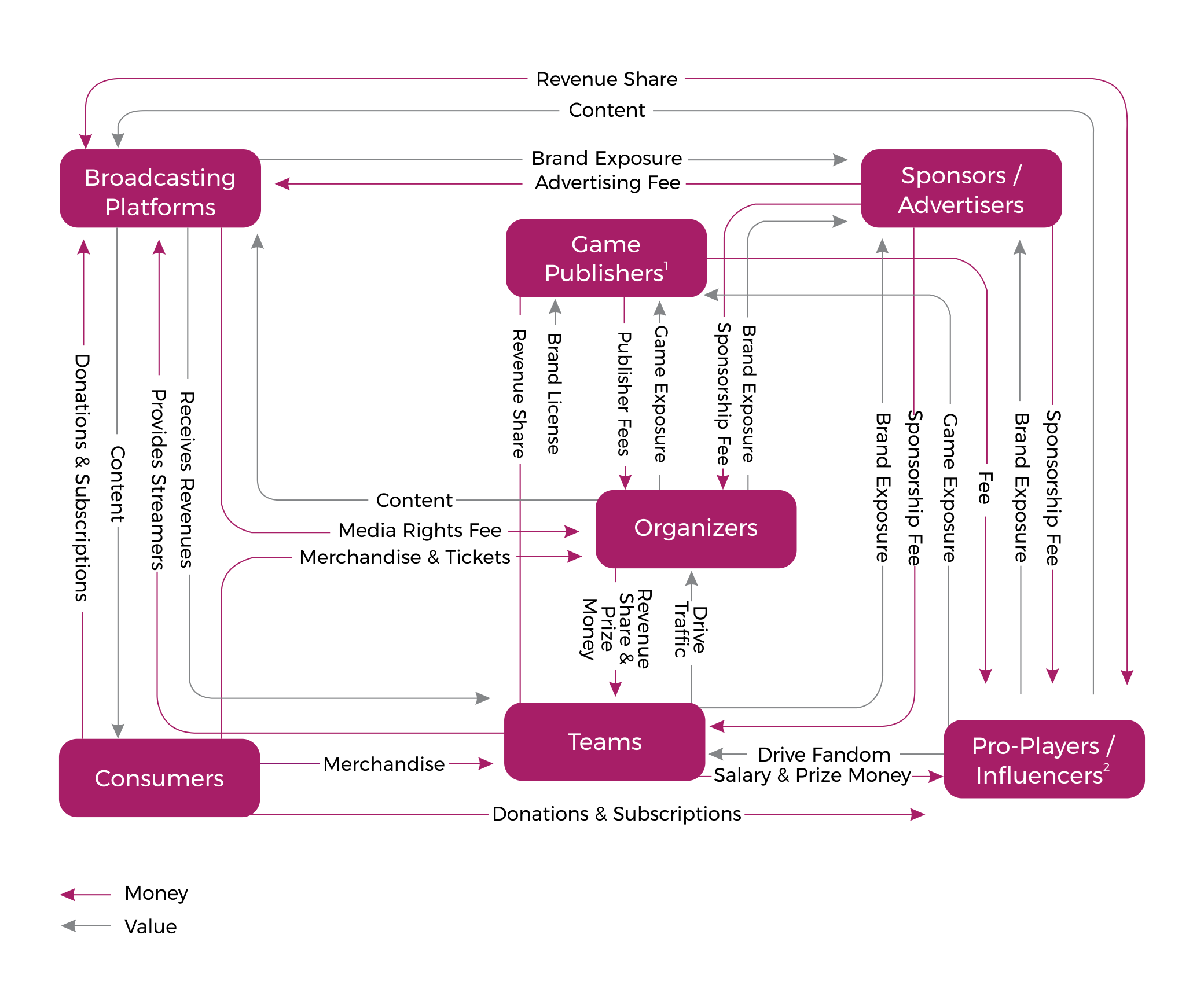 Game publishers can own multiple games and be organizers of the games they operate themselves

Influencers and pro-players can be independent of a team

Revenue share includes a share of subscription, donation, and advertisement revenues

Revenue share comprises a share of sponsorship and media rights revenue

Revenue share contains a share of in-game digital goods
eSports Infrastructure
The infrastructure of eSports is expansive and expensive, with stadiums for individual teams, established leagues, dedicated game-creating studios, and million-dollar sponsorship deals.
As an emerging industry, eSports is just starting to develop its infrastructure of stadiums and organizations. We're here to help you navigate through this exciting world.
How a game, or video game, becomes a sport
The game becomes a sport when it meets several fundamental requirements.
The sizable differences between a game and a sport are accepted rules for gameplay, enforcement of those rules through a sporting league, and spectators.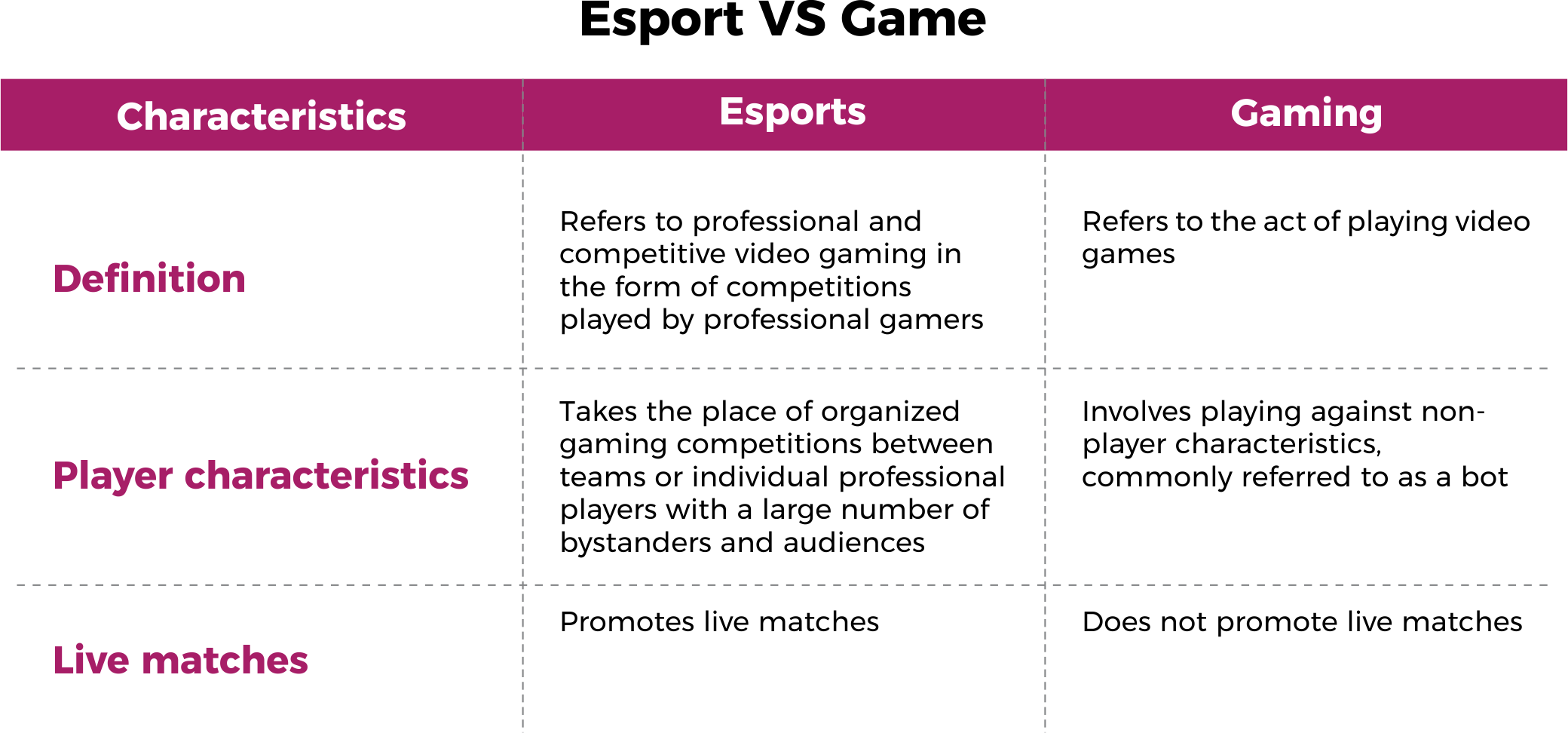 League Infrastructure
Historically, eSports leagues were based on the relegation-promotion model like the soccer leagues of Europe. However, more recently, the league format for major eSports titles has been based on the model of professional sports leagues in the US. This classic city-based franchisee model has been adopted for games like Overwatch, League of Legends, and Call of Duty.
These brought sustainability to the ecosystem, making organizers, teams, players, and publishers more comfortable. The reason behind that is to help attract sponsors and investors with the expectation of longevity by reducing uncertainty, allowing multi-year contracts with sponsors, broadening team infrastructure, and targeted marketing.
Additionally, the players believe this brings more stability to their livelihood with annual salaries and benefits included in their contracts and will also accelerate the adoption of taking up gaming as a full-time career prospect which usually is looked down upon in society.
Fan Engagement
eSports would have gone down in the history books if fans didn't have a physical environment to match their energy and share that same environment with a digital audience. That is why live events help brands and fans shine, and the broadcasting of those events accommodates the new style of viewership.
Game Development
When we think about the system that supports eSports, we rarely focus on the brilliant teams behind the technology who animate characters, create storylines, and push the future of game development.

Intentional design, uniquely branded elements, and experience-focused environments help game studios support employees, impress talent, connect with the community, challenge ideas, and increase innovation.
How do Brands Contribute to eSports Revenue Growth?
eSports is a massive industry, and it is growing by the day. That is why it's no surprise to see that investors are putting more and more money into this field with diverse investment opportunities, such as:
Advertising products to fans and players - for example, Coke, Red Bull, Gillette, and Mercedes-Benz
Sponsoring tournaments and gaming syndicates - for example, Intel and Acer
Licensing games and products for tournaments and online play - for example, eSports TV channel Ginx
Sponsorship offers a sizable opportunity for various brands to directly reach the target audience through offline and online media channels. Booths, posters, interactive advertising, video displays, freebies, and many other creative methods facilitate the brand to target millions of fans.
Many endemic brands and celebrities have already well-established sponsorship deals with eSports teams and leagues. These deals have proven to be a worthy investment and increase their market share and brand recognition.
Additionally, the industry has seen an up-stick from non-endemic brands such as Volkswagen Group, Daimler AG (Mercedes Benz), McDonald's Corporation, Tinder, and Vivo Communication Technology as crucial sponsors for the eSports tournaments and teams. There have been nearly 76 deals by non-endemic brands for Q1 2019, including prominent brands such as The Coca-Cola Company; AT&T Inc.; Nissan Motor Co., Ltd.; and Nike, Inc.
You can see names like Drake, Ashton Kutcher, The Weeknd, Michael Jordan, Steph Curry, and other celebrities investing in eSports.
Conclusion: eSport is Just Getting Started
The market for eSports is growing all the time. Many major brands are investing in this market already. There are always opportunities for other brands to invest in eSports and benefit from it. According to projections by the Newzoo research firm, the number of people who watch eSports should surpass 921 million in 2024. Brands should pay attention to how the market develops and consider how they can support it.
---
Written by Sofi Grigoryan
Sofi Grigoryan is a content writer at Feedconstruct - the top company specialized in delivering sports data. Having a deep understanding of the sports data landscape, Sofi uses her skills to create both compelling and informative content.
Explore more:
The Importance of Esports for Betting and Gaming Businesses