Sports betting is a high-risk, high-reward business. In the short term, you can make some easy money taking the underdogs and betting against heavy favorites, but in the long run, you'll probably lose everything you have. To avoid this pitfall, we'll focus primarily on data-driven sports betting strategies and prediction models that will help you determine which team(s) are most likely to win based on historical stats.
However, data-driven betting strategy is an advanced skill that takes many hours to master and can only be learned by observing sports databases and sources.
You can also look at weekly predictions, such as SkySports week's fixtures by Paul Merson, an ex-Arsenal player-turned-pundit who had won several titles.
This article will cover many tips for new bettors and highlight how someone with average knowledge of sports betting odds can use data analysis to earn some extra cash.
5 Quick Tips for Data-Driven Sports Betting Strategy
A data-driven sports betting strategy is the practice of using statistical analysis to make better predictions about the outcome of sporting events. It relies on collecting and analyzing data from past events to make predictions about future ones. This can include anything from historical performance numbers for individual players or teams, to specific weather conditions affecting a game, to injury reports for athletes involved in an event.
Here's a rundown of the quickest and easiest tips you can put into action:
Learn Betting Odds
To succeed at betting, you have to learn the basics. Check out our article on betting odds to get you started.
Separate Your Betting Bankroll
Betting can be an expensive hobby. It's a good idea to start with a separate bankroll for betting purposes so that you will not be tempted to dip into your savings if things don't go well for you.
Diversify Your Bets
Diversifying your betting portfolio is a good way to help cope with bad luck, reduce risk and lower the amount of variance in your portfolio.
Don't Make Longshot Bets When You're Starting Out
When you get a bigger bankroll, it's okay to make a few longshot bets; but when you're starting out betting longshots will be a big drain on your bankroll.
When The Team Is Heavily Favored To Win, Bet On The Underdog



Sometimes, the most common edges are found when a popular team is overhyped. Overhyped teams will often lose, and you can get better odds by placing your bet on the underdog.
As a beginner, it is important to focus on the fundamentals. Once you have these down, then you can move on to more complicated bets.
What Is The Best Data-Driven Strategy For Sports Betting?
The problem with most sports betting strategies is that they're too complicated or require too much time to implement. They also often require a lot of research and analysis to figure out what the best picks are. The result is that many people make mistakes when they place their bets, which can lead to frustration and wasted money.
The best data-driven strategy for sports betting is a combination of simple, yet effective, strategies.
Here are some quick and easy strategies to help you get started:
Focus On One Team At A Time
Knowing a lot about one team is more valuable than having an average amount of knowledge about many teams. The more you know about a specific team, the better you'll be able to understand good value when looking at the newest betting odds.
As an expert on your team, you'll be the first to know about news events that might have an impact on the odds. If you have a hard time limiting yourself to just one team, try betting on just one league.
A Hedged Bet
When you bet on a sports match, there's the option to reverse your bet. This means that if you placed a bet on one team but think the other team is more likely to win, you can place a second bet against your original choice. This might seem strange, but if it works out right then it can help guarantee a profit.
Hedging is used when the odds on your bet change in your favor as the season progresses or when you've won a large number of bets in a parlay but still have one or more wagers remaining.
It allows you to hedge your bets and play it safe by making a guaranteed profit. By making your hedge bet larger or smaller you can play with how much risk and reward you want to take.
Taking The Middle Bet
When a sports bettor makes an early point spread wager but sees the line move in his favor later, he's said to have "middled" the bet. For example, you might find middling opportunities when you shop for point spreads and discover significantly different lines for the same game. By betting opposite your original wager, you might win both bets.
The Zigzag Theory
The zig-zag theory can be used to bet on NHL and NBA playoff series that use a 2-2-1-1-1 format. In this format, the higher seeded team plays at home for the first two games, as well as the fifth (if there is one) and seventh (if necessary).
The zig-zag theory is based on two concepts. The first is that home teams have a real advantage, and the second is that when a team loses a game, they generally play harder and have a statistically better chance of winning the next game. The zig-zag theory works best when a team is at home and coming off a loss.
Which Sport Is The Most Predictable For Betting?
Many factors go into making a sport more or less predictable. The biggest factor is how many games are played within a given period and how often those games are played.

Research has found that some sports are more predictable than others, with football being the most predictable. The study analyzed the total financial volume of bets across the sports.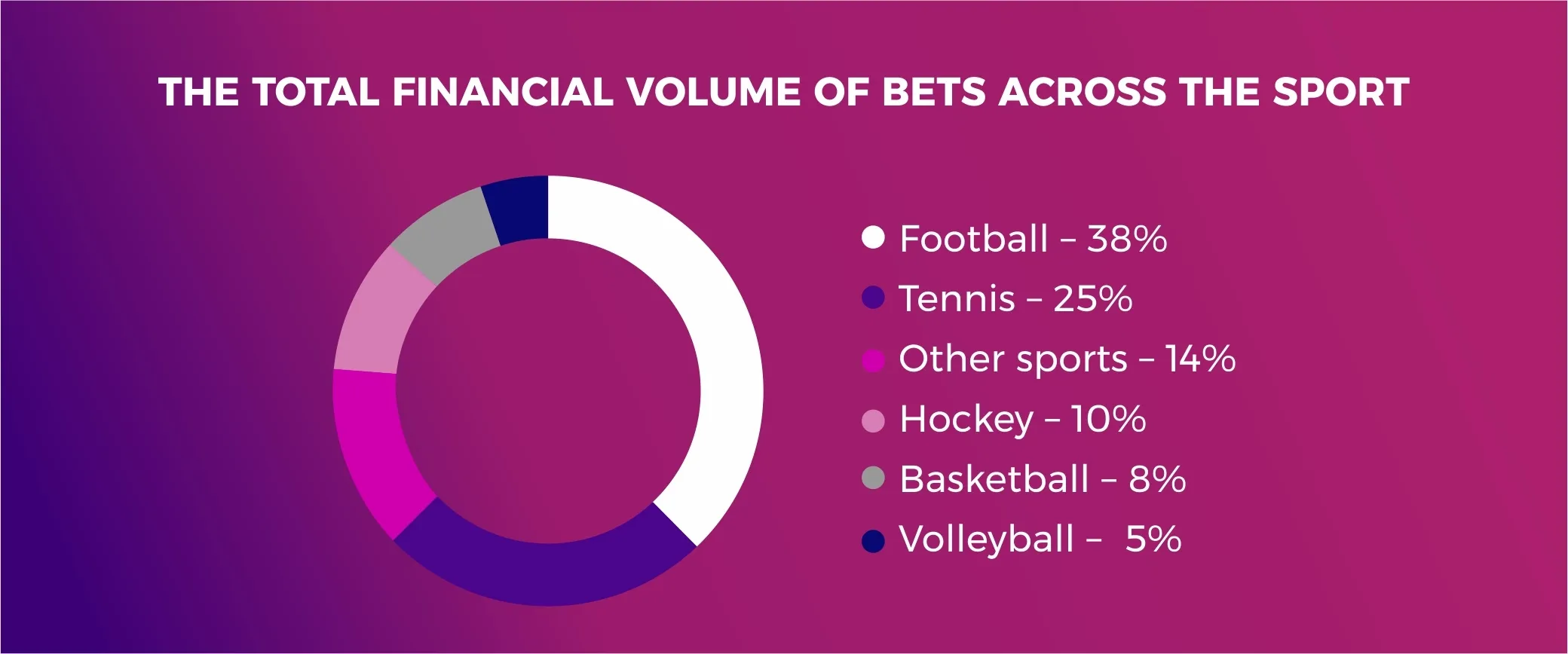 Using Sports Databases and Stats Sites to Discover Trends
Firstly, let's understand what sports databases are.
Sports databases are websites that offer detailed information about specific athletes or teams involved in sporting events. Each database keeps track of historical statistics related to different teams, players, and coaches from around the world. You can also keep track of sports trends for the upcoming years.
When you are trying to predict which team will win a game or even what player will score the most points for his team that day, using sports databases can give you high odds of winning.
But how do you sort through all those sites and find the ones that will help you make smart bets? Here are a few tips for getting started:
Use More Than One Site
Don't just rely on one source for your data because they might be missing something important. Use several sites at once and compare them against each other — sometimes they'll give different results or different takes on the same subject matter. It's also a good idea to use some old-school techniques like talking with friends about their favorite teams or reading sports newspapers for insight into what might happen in future games (or even past ones).
Look For Sites With Good Search Functionality
When searching for data on a particular team or player, be sure to look for sites that have good search functionality so you can easily find what you need.
Look For Sites That Offer Real-time Stats
You don't have time to wait around for updates if you're planning on placing bets during a game. Look for sites that offer real-time stats so you can see how things are going and adjust accordingly if needed.
Final Thoughts on Data-Driven Sports Betting Strategies
Whether you're just getting started or are an experienced bettor, there's something here for everyone. In particular, sports bettors will likely find this article useful if they're looking to take their wagering game to the next level. There are tons of different strategies out there, but the vast majority are just not very good.
However, the same cannot be said for data-driven sports betting strategies; these are based on objective math and statistics and have been proven to work effectively over long periods.
So if you're ready to become a successful horseplayer or just give your wagering game an extra boost, now is the time to try a strategy that's backed by science and experience rather than guesswork and hunches.
---
Written by Sofi Grigoryan
Sofi Grigoryan is a content writer at Feedconstruct - the top company specialized in delivering sports data. Having a deep understanding of the sports data landscape, Sofi uses her skills to create both compelling and informative content.