Streaming live sports is a very competitive business nowadays. Sports broadcasts are a great way to share a memorable event with the entire world without delay. But when it comes to streaming, you don't want to be left behind by using outdated technologies. Automated broadcasting cameras are the perfect solution if you want to stand out from other broadcasters.
Automated broadcasting cameras are the future of live sports broadcasting. They are becoming more closely integrated with the use of artificial intelligence technology. AI-Cams have begun to be used for semi-pro and professional leagues to ensure a fixed recording rate of all events covered by cameras in stadiums.
As a broadcaster, you need to be able to find a way to stand out and appeal to your viewers. This means using the most up-to-date camera technology possible and focusing on making an amazing broadcast experience.
What to Look for in a Sports Live Streaming Camera
When it comes to sports, the best camera is the one that gives you a front-row seat to all the action. Whether you're watching your favorite team at home or on the go, there are several different sports live streaming cameras available that can help you get in on all the excitement.
If you're looking for a quality sports live streaming camera, here are some things to consider:
Resolution
When it comes to sports, high-definition (HD) resolution is essential for capturing every moment of action. Look for a camera that offers at least 720p resolution and support for 1080p video if possible.
Audio Quality
The audio quality of your stream will make or break your viewing experience so be sure to find a camera with excellent sound recording capabilities. This will ensure that viewers can hear every bit of commentary and crowd noise as if they were sitting right next to the field!
Battery Life
Nobody wants their stream interrupted by an empty battery so look for sports live streaming camera with long battery life so you don't have to worry about charging while recording your game!
Portability
Look for a small and lightweight device that's easy to carry around with you when you're on the go.
Compatibility
Make sure your camera is compatible with any streaming apps or software you might use on your computer or smartphone. Some cameras come with their software while others require an app download before they work properly.
Connectivity
You will need to make sure that your camera can connect wirelessly or via HDMI cable so that you can stream directly from it. If you plan on streaming from far away from where the game is being played, then look for one that has wireless capabilities so that no wires are getting in the way of recording or streaming properly.
Zoom
A zoom feature allows you to zoom into specific areas on the field or court as needed, which makes it easier to follow what's going on during an event. Some cameras also offer digital zoom capabilities that let you change how big an image appears on your screen without changing its pixel count by increasing or decreasing magnification digitally rather than physically moving closer or farther from your subject matter with each press of a button on your remote control device.
What is Automated AI-driven Sports Broadcasting?
Automated AI-driven Sports Broadcasting is a new method of broadcasting sports events that is revolutionizing the way we watch and experience sports. The technology has been around for some years now, but it has recently gained momentum and popularity due to its ability to provide a more immersive and personalized viewing experience.
So what is Automated AI-driven Sports Broadcasting?
Automated AI-driven Sports Broadcasting refers to the use of automated artificial intelligence systems to deliver real-time sporting events. This technology can analyze the game in real-time, track player movements, and predict what will happen next based on all available data. In addition, this technology can also provide personalized recommendations for viewers based on their preferences.
The use of AI also allows for automatic production management which means there is no need for human input during production. This makes it possible for automated AI-driven sports broadcasting to cover more events than ever before!
By automating the production process, broadcasters can also scale their operations to offer more coverage of high-demand events.
Benefits Of Automated Sports Camera
The automated sports camera is a technology that is set to revolutionize the sports broadcasting industry. It is software that can automatically produce content for sports broadcasters such as news, highlights, and statistics. It will also be able to produce high-quality content for streaming platforms.

The benefits of automated Ai-driven sports broadcasting are numerous. They include:
Improved Quality Of Content
With automated AI-driven sports broadcasting, there will be no need for human beings to manually produce news, stories, or other types of content. This means that the quality of such content will be improved because there will be no room for mistakes.
Cost Savings
When you use automated AI-driven sports broadcasting, you will be able to save money in two ways; firstly, by not having to pay for expensive human labor, and secondly, by not having to invest in costly equipment such as cameras, and microphones, etc. The cost savings will allow you to invest more into marketing campaigns or other areas of your business which may help increase sales and profits.
Reach a global audience
With automated Ai-driven sports broadcasting, you can reach your target audience across the globe with minimal effort and cost. You don't need to hire expensive translators or travel across countries to reach your audience; all you need is an internet connection!
Enhanced viewing experience
AI-driven broadcasting offers unique content that is engaging and entertaining for viewers who want something different from what they usually see on television or online channels.
What AI Camera Is Best For Live Streaming Sports?
So, how do you know which automated broadcasting camera will work best for your streaming? That's the tough part. You don't want to waste money trying out different models to find the one that works perfectly with your setup. For example, if you're using a computer to broadcast, then you'll want to make sure the camera has software recommendations compatible with your computer system.

The best sports camera for live streaming will be able to capture fast-action and high-resolution images that show every detail of the game. The camera should also be small enough so that you can keep up with the action on the field.
FeedConstruct's high-tech broadcasting camera AJNA allows broadcasters to record and live stream their sports events right from the spot. With AI detection and tracking of objects, AJNA can detect players, ball, and referees automatically.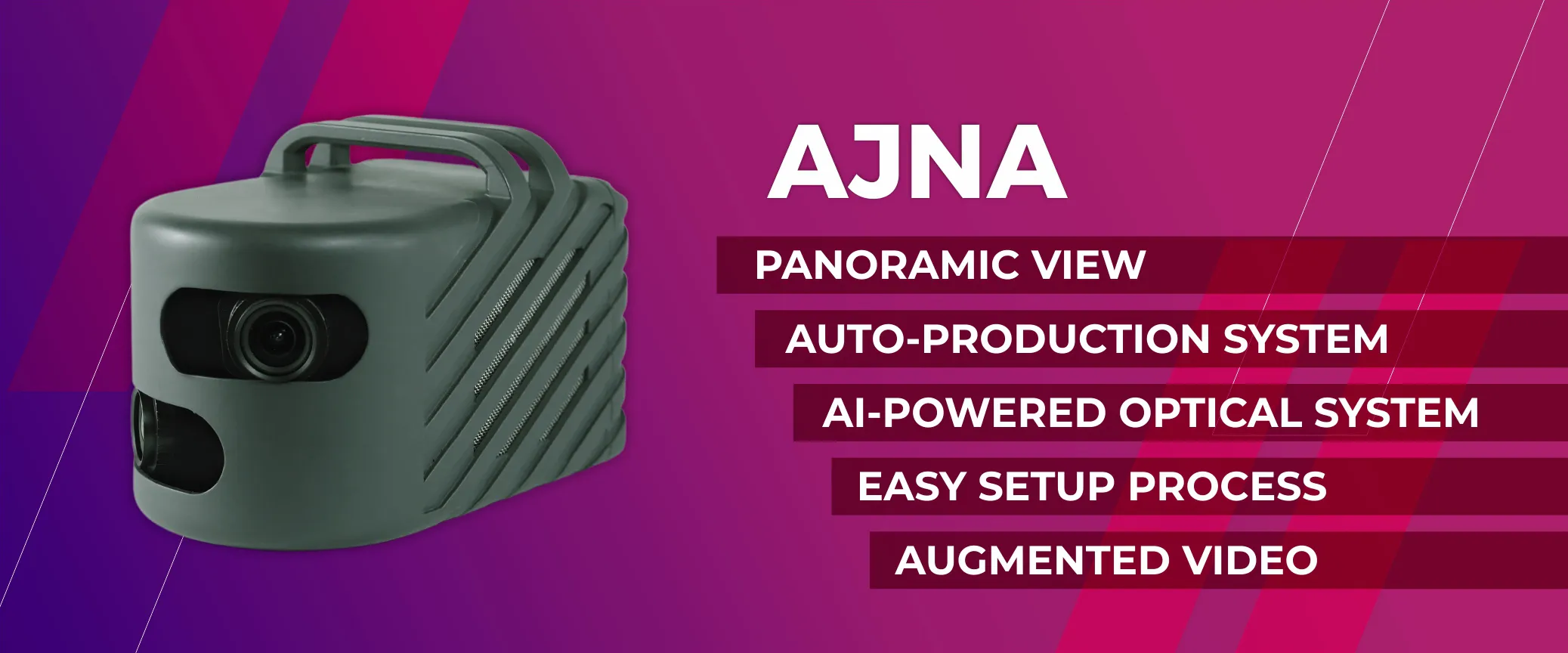 The camera allows remote recording, allowing users to manage the broadcasting without manual help.
Moreover, the AI algorithm in the camera analyses the game flow automatically zooms in/out, and establishes optimal tilt angles to provide a better image.
Users can also upload the content to FeedConstruct's Friendship platform, and stream globally with FeedConstruct's 300 partners as active consumers.
Final Thoughts On Sports Broadcasting Cameras
When it comes to streaming live sports, you want to make sure that the camera you're using is high quality and will ensure seamless broadcasting. With an automated and artificial intelligence-driven camera, you can be sure your live stream will always be of the highest possible quality.

Now that you've picked up on the basics of automated Ai-driven sports broadcasting you'll know how to determine what hardware is best for your streaming needs. You'll also find out what are the latest advances in this area today. Stream well!
---
Written by Sofi Grigoryan
Sofi Grigoryan is a content writer at Feedconstruct - the top company specialized in delivering sports data. Having a deep understanding of the sports data landscape, Sofi uses her skills to create both compelling and informative content.