Do you realize that sports betting has been here longer than some of the sports themselves? For as long as there have been people playing sports, there have also been people betting on them. 
Straight forward to 2021: betting is raising its popularity every year around the world. The global sports betting market is poised to grow by USD 144.44 bn during 2020-2024, progressing at a CAGR of 11% during the forecast period. The reasons why people bet on sports are always the same; betting on sports is fun, and there's a chance of winning money. But what about this chance? Is it fair? How does the bookmaker guarantee wins for both the player and the house? Shall we have a little look behind the curtains to find out how the odds are created?
How Are Sports Statistics Collected and Analyzed?
Statistics in sports provide a unique and challenging opportunity for advanced statistical analysis. Extensive data is collected on athletes, teams, and opponents, and this data is used in various ways.
There are two aspects of sports analytics — on-field and off-field. On-field analytics deals with improving the on-field performance of teams and players. It digs deep into features such as game tactics and player fitness. On-field analytics facilitates decision-making both during and before sporting events. It improves player evaluation and development and makes strategic and tactical decisions profound.
Off-field analytics deals with the business side of sports. It essentially uses data to help rightsholders take decisions that would lead to higher growth and increased profitability, and enhance the fan experience.
As technology has advanced over the last number of years, data collection has become more in-depth and can be conducted with relative ease. For instance, FeedConstruct: a sports data providing agency, has introduced AI/ML operating machines AJNA and DeePro that have raised the bar for data collection. Another significant impact sports analytics have had on professional sports is their inevitable assistance in creating odds. Several companies and web pages have been developed to help provide fans with up to the second information for their betting needs.
What Are Sports Betting Odds?
If you want to become a successful sports bettor, your first stop will be the perception of how odds work. Generally, odds are displayed in 3 formats: American, Decimal, and Fractional. Their purpose is to signal the implied probability of the outcome they are attached to and indicate how much money you could win betting on that outcome.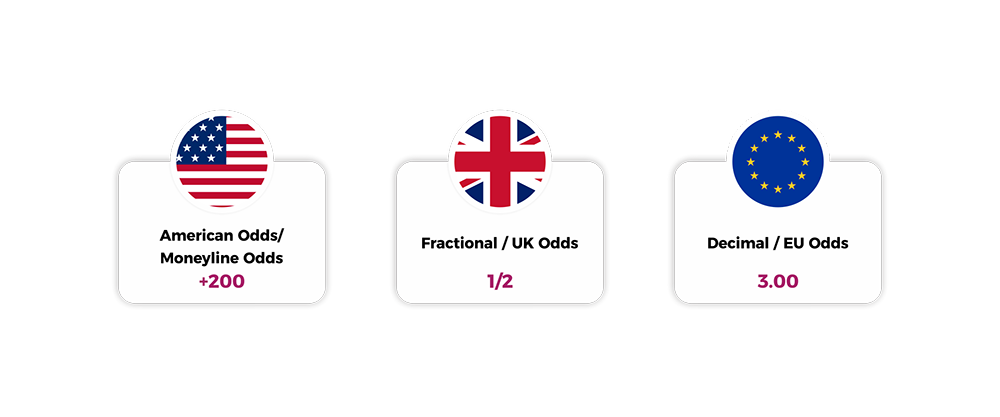 American Odds
The odds for favorites are accompanied by a minus (-) sign, indicating the amount you need to stake to win $100. Meanwhile, the odds for underdogs are accompanied by a positive (+) sign, indicating the amount won for every $100 staked. In both cases, you get your initial wager back, in addition to the amount won.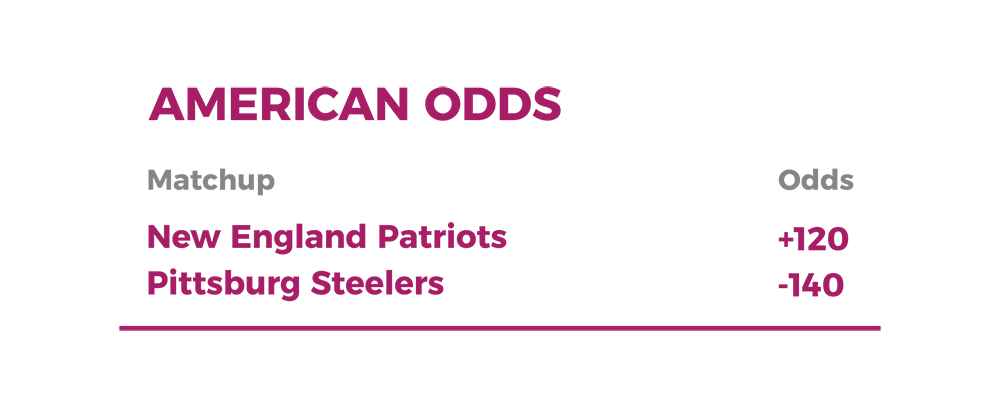 Decimal Odds
The Decimal odds are popular in Europe, Australia, New Zealand, and Canada. These are a bit easier to understand and operate. The favorites and underdogs can be spotted instantaneously by looking at the numbers. The decimal odds number represents the amount one wins for every $1 wagered. For decimal odds, the number represents the total payout rather than the profit. In other words, your stake is already included in the decimal number (no need to add back your stake), which makes its total payout calculation easier.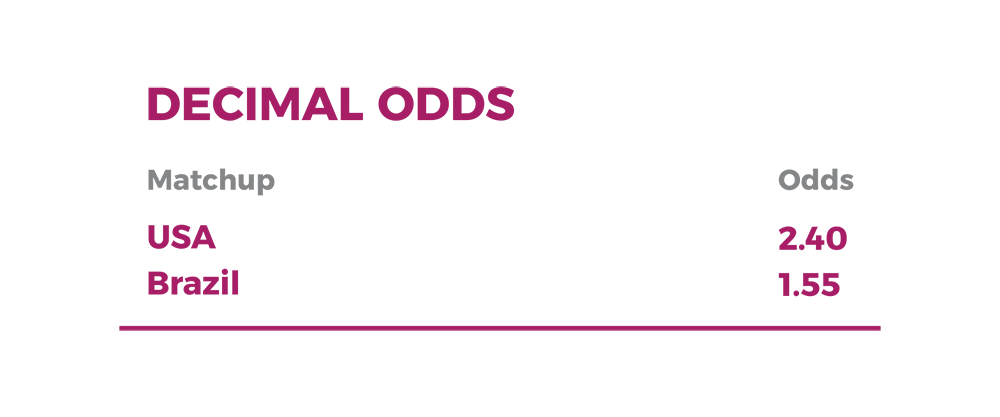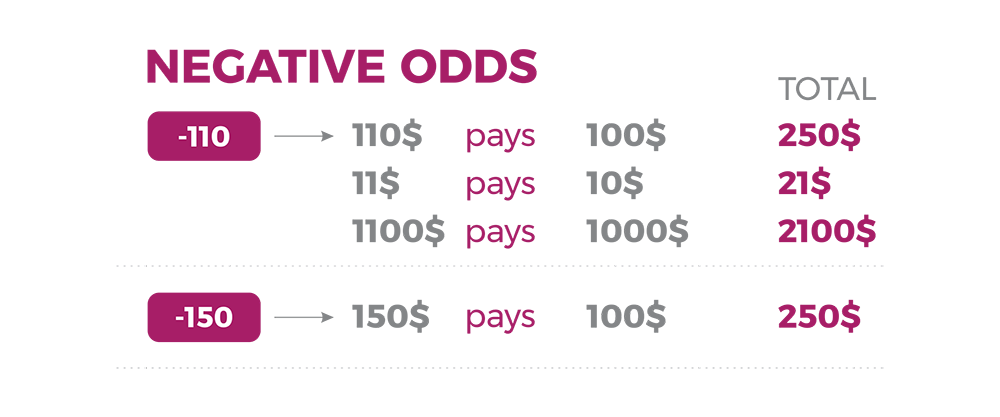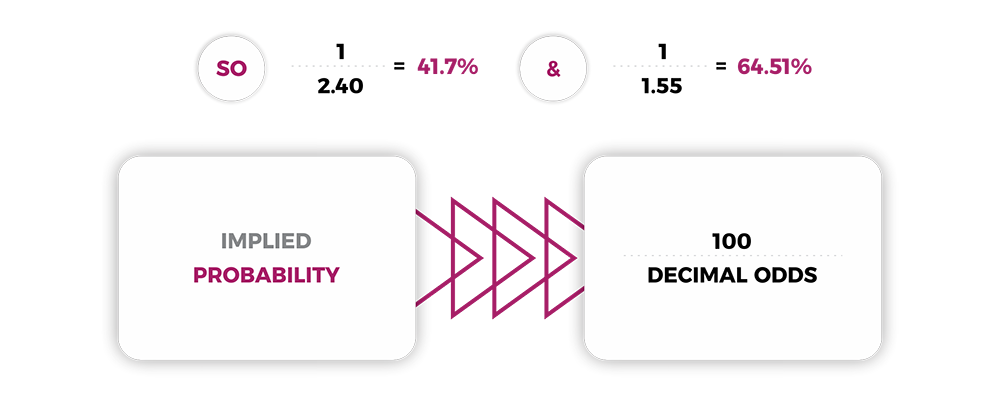 Fractional Odds
The Fractional odds are popular among British and Irish bookies. Fractional odds are used by some of the world's largest bookmakers, making them the most preferred odds across the globe. A fractional listing of 6/1 (six-to-one) odds would mean that you win $6 against every $1 you wager (in addition to receiving your dollar back, $1 – the amount you wagered). In other words, this is the ratio of the amount (profit) won to the initial bet, which means that you will receive your stake ($1) in addition to the turnout ($6), resulting in a total payout of $7. Therefore, if you stake $100 at 3/2, you get a total payout of $150. Total Payout = [Stake x (Numerator/Denominator)] + Stake where numerator/denominator is the fractional odd, e.g. 28/6.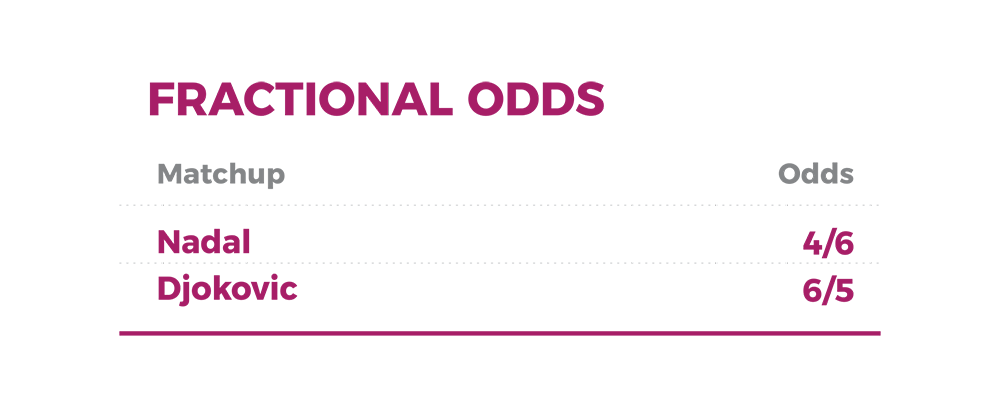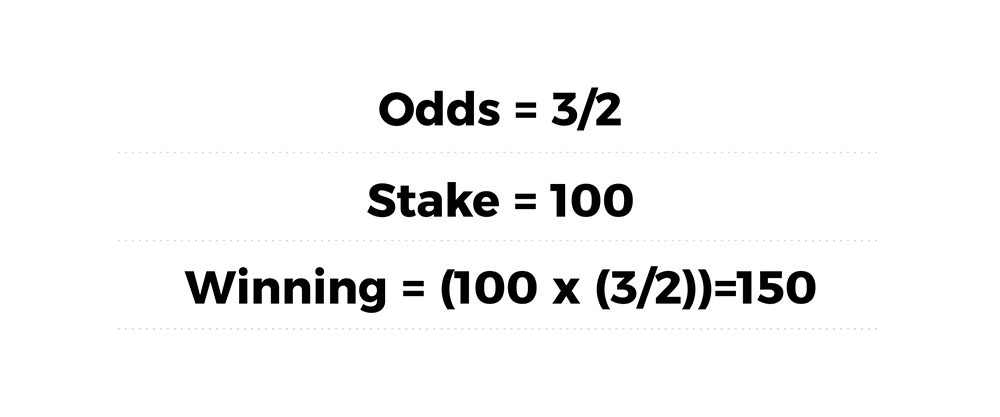 The odds must be accurate and get people to bet on both sides to attract more gamblers and keep them.
How do Sports Statistics Help in Creating Sports Odds?
Most of the time, bookmakers cooperate with sports data-providing agencies to receive accurate sports odds data. But how are they calculated? The companies create models to find patterns in the historical statistics that help them predict the probability of match outcomes. They then generate ratings for each of those statistics and apply weightings to them so that the recent form affects the rating more than last season's results. Then they can look at historical results between all teams in that league with similar ratings and get a probability for the results. That modeled probability might be a 33% chance of a home win, a 31% chance of a draw, and a 36% chance of the away win.
This model suggests that if time could be reset, and this match was played 100 times, the home team would probably win 33 of those games, the away team would win 36 of those games, and the other 31 games would be draws. But we don't know which of those outcomes is going to come up in reality. The odds depend on the probability which represents the likelihood of an event occurring for a fraction of the number of times you test the outcome.
The odds take the chance of an event occurring and divide it by the probability of the event not occurring. You can learn more about the most competitive live odds services to have more insight into the odds feed. So, statistics and odds are vital aspects of any successful booking operator. To have a guarded and profitable betting experience, a superior number of bookmakers choose to employ data-providing agencies' services. Those companies have immense accountability in providing the right odds that were formulated from decent statistics. Technological development helps in the constant searching for new variables that correlate to wins. Hope we have given you a grip on the importance of sports statistics and how it helps create the odds.
---
Written by Sofi Grigoryan
Sofi Grigoryan is a content writer at Feedconstruct - the top company specialized in delivering sports data. Having a deep understanding of the sports data landscape, Sofi uses her skills to create both compelling and informative content.
Explore More
The Fastest Live Scouting Data in the Market: Always Seconds Ahead of the Game. 
How to Grow Your Betting Business: the Must-Have Products?