Selecting the perfect sports data provider for your sports betting business can be an exhausting task. You have to look deeper into so many features, such as the provided portfolio of services, the transmission latency, exclusivity, and more factors. You have to be picky in this stage because it is either going to step up your game or leave your wallet bare. 
So how to find the ultimate sports data-providing company that is perfect for your business? 
This article will share all the nuances of betting businesses and how one chooses their provider.
You can always switch to a better provider if the provider you chose doesn't meet your expectations but it will cost you additional resources and more importantly headache. 
Your entire betting website will be built upon the data from your provider. Changing that will require a tremendous amount of work. That's why it's best if you immediately find that one data provider that perfectly suits your wishes and needs.
Let's start with common accuracy and reliability. 
Accuracy and Reliability 
The first question you should ask yourself when choosing a provider is "Can I trust in the provided data?" The provider has to be honest about their data collection and maintenance policies, so you won't spend eternity checking and editing the incoming data.
Also, sports data providers are sitting on a ton of data, which they are eager to sell to anyone. Try to find a reliable provider that will limit your data contract to the metrics you are going to use. Negotiate a customized contract, based on your needs.
Precise Statistics and Metrics 
If you want to win in this game, the data you work with must not only be accurate and reliable but should be collected and delivered with real-time speed, thereby staying significantly ahead of the typical five-to-ten second TV broadcasting delay. Metrics provide the most unique and reliable information for decision-makers. Otherwise, a small mistake can cause you a loss of millions of dollars. 
Any betting operator needs accuracy, real-time sports data, customization, support, coverage, and easy integrations from data providers. Real-time data is the power cell of the betting experience. Wide coverage means a wide spectrum of fans. Ease of integration and support ensures an experience with no technical difficulties. 
In our experience, even the industry leaders in sports data do make mistakes from time to time but those are the main metrics to keep an eye on. 
Data Quality
As the main aim of sports big data management is to mine the potential value of big data and enhance data quality and accessibility for decision-making, choosing a sports data provider that can provide high-quality data in bulk is an essential factor.
You may define criteria for acceptable quality, but data completeness, uniqueness, consistency, accuracy, and relevancy are the factors that can help you succeed or lose. The decision to make is whether you're ready to pay a high price for higher quality. 
As the public scrutiny on the quality of data grows and betting regulation spreads, it's a good idea to make sure you get your data from a company that has a solid reputation for the security of supply.
Data Formats and Delivery Methods
A data feed should be easy to implement, so you can minimize your expenses. The most popular data delivery formats you should choose from are XML, JSON, and CSV. However, for seamless integration of your data feeds into existing systems, you may also look for APIs and widgets. Just make sure the APIs can be implemented quickly and easily. Developers will appreciate working with APIs that are well documented.
The Power of Exclusivity
Exclusive content is one of the primary means of differentiation between sports data providers. Given the ability to attract a high audience and, as a consequence, augment monetization, exclusive content should be on your list of must-haves when choosing a provider. It should also be noted that the absence of exclusivity reduces new players' incentives and lessens the differentiation of the offer among competitors.
Service Customization and Personalization
Customer service is a huge differentiator in today's marketplace. When done right, personalized customer service can do wonders for customer retention and your bottom line.
If you want to attract a large audience of punters, you need to offer them the features they're likely to want.
Check out the checklist below on how to make sure that you get the common features that a sports data provider has to offer for your betting website. 
A Wide Selection of Sports  
A variety of sports allows you to find the right niche for you. It also allows your bettors to try out new sports and get a feel for what they are comfortable betting on. For instance, football is a popular niche for betting and is witnessing new heights today.
Esports and Modern Betting Avenues Support 
A checklist of sports betting sites would be incomplete without this feature. To boost the engagement of users, sports betting sites are providing betting opportunities on popular esports which include Starcraft-2, Dota-2, Call of Duty, and LOL.
Multiple Betting Market and Bet-type Support
Multiple betting market support is one of the top features of sports betting sites. Several betting options let the bettors explore, get an understanding, and try their hand at several bets.
Pre-match and Live Odds
Both of these are great options to have on your online sports betting site as both render the most enjoyable, thrilling, and splendid betting experience. These enable your users to place bets before the start of an event or place several wagers after the start.
Scheduling Tools
Auto booking the events you want to have on your website will save you a lot of time and headache. You won't have to worry about checking the event list or the hours every time there is a match. You can simply auto-book your preferred matches and implement them on your betting page. This feature is a lifesaver. 
 Multi-lingual Support 
Not everyone is completely fluent in English, and not everyone understands English perfectly. When you have visitors from around the world, it becomes vital to offer multi-lingual support on your website that will help eliminate the language barrier and give visitors easy access to betting.
Statistical Widgets, Analytics, and History 
Statistical widgets help bettors understand the patterns, provide them insights on making a betting decision, and enable them to create better betting strategies. History features on teams give users a complete image of the situation and keep them informed all the time. 
Multi-Platform Usage
The benefit of having a multiplatform solution is that you can attract more bettors who can bet from anywhere at any time. Moreover, a mobile solution helps you capture more in-play betting volume.
 Why FeedConstruct? 
FeedConstruct provides data feed solutions, connecting the world of sports, betting, and media. FeedConstruct offers crucial data feed solutions as well as technological innovations to capture in-depth data and create new betting markets. The quality video streams and rapid scouting data make it stand out from the crowd.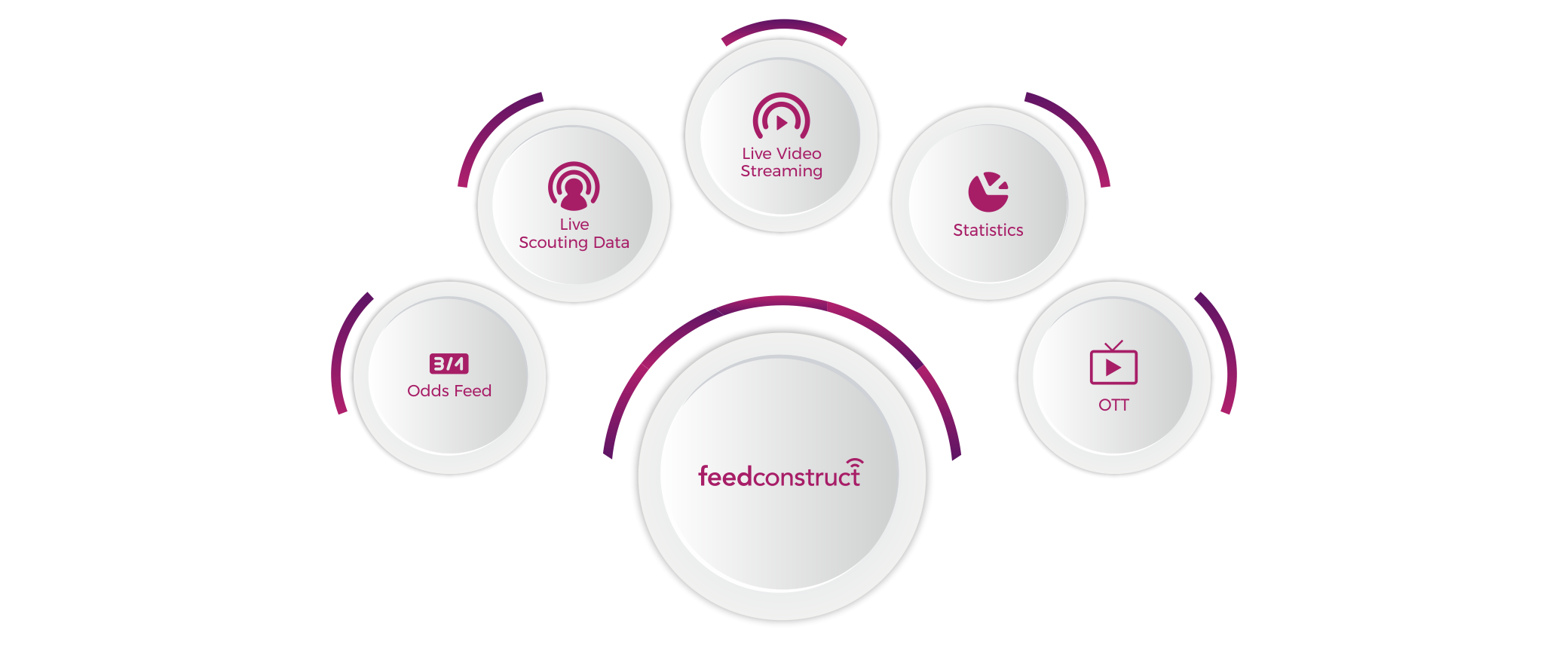 Conclusion 
Having a trusted supplier can give you the best sports betting site that comes with a plethora of features, such as those that keep users engaged, and entice them. It also arms your business with all the essential tools and functionalities that bettors look for.
Are you ready to start?
---
Written by Sofi Grigoryan
Sofi Grigoryan is a content writer at Feedconstruct - the top company specialized in delivering sports data. Having a deep understanding of the sports data landscape, Sofi uses her skills to create both compelling and informative content.
Explore more 
How to Grow Your Betting Business: the Must-Have Products
How to Grow a Betting Business By Using Virtual Sports?
The Fastest Live Scouting Data in the Market: Always Seconds Ahead of the Game