Interested in Esports? Want to know how to bet on esports? In this article, we will cover everything you need to know about esports and esports betting. Let's get started by learning everything from A to Z. 
What are Esports and Esports Betting? 
Esports: the not so latest tendency of the world is a form of competition featuring video games. The best part of esports is the fact that the players are not trained professionals, but mostly at-home gamers who enjoy multiplayer video game competitions. In other words, eSport is the world of millennials, and gaming influencers are the new athletes. Streaming services allow viewers to watch their favorite players play in real-time, and this is where popular gamers build their fandoms. Although organized competitions have long been a part of video game culture, these were largely between amateurs until the late 2000s, when participation by professional gamers and spectatorship in these events through live streaming saw a large surge in popularity. The global attention driven to esports attracts another type of entertainment: esports betting, which proves again how big of a deal esports are. Esports betting saw a huge rise in numbers during COVID-19 when all of the major sports tournaments were called off. Switching to betting on esports after years of betting on sports can feel moderately different, so what exactly is esports betting, and how does it differ from sports betting?
Before you start betting on esports, you must have a proper understanding of at least some of the played video games. There's no way you'll be able to make good betting decisions if you don't. It's not necessary to be a genuine expert, but you certainly need to understand how the games are played and some of the strategies involved. Although there are dozens of different esports games, the majority of professional contests are played using just a few popular titles. Here's a list of the ones that are featured most often: 
CS:GO 
Counter-Strike: Global Offensive is a multiplayer first-person shooter developed by Valve and Hidden Path Entertainment. The fourth game in the Counter-Strike series expands upon the team-based action gameplay that it pioneered when it was launched 19 years ago. 
Dota 2
Dota 2 is a multiplayer online battle arena video game developed and published by Valve. The game is a sequel to Defense of the Ancients, which was a community-created mod for Blizzard Entertainment's Warcraft III: Reign of Chaos. Dota 2's hero pool is massive and limitlessly diverse from magical tacticians to fierce brutes and cunning rogues. 
LOL
League of Legends is a team-based strategy game where two teams of five powerful champions face off to destroy the other's base. You can choose from over 140 champions to make epic plays, secure kills, and take down towers as you battle your way to victory.
Call of Duty
Call of Duty is a first-person shooter video game franchise published by Activision. Starting in 2003, it first focused on games set in World War II. Over time, the series has seen games set amid the Cold War, futuristic worlds, and outer space. 
Fortnite
In Fortnite, you can explore a vast, destructible world as you and other players team up to hold back hordes of monsters. In your fight against these monsters — known as Husks, you become stronger by finding loot, crafting weapons, and expanding your collection of Heroes.
Esports betting offers a wide variety of options and seasoned bettors can use these to their advantage. The key differences between betting on sports and esports include the following:
Different Formats
Traditional sports tournaments employ a league-based format, meanwhile, esports is a combination of several titles, changing the betting field with different tournament structures. 
Types of Bets
Traditional sports often limit themselves to Money Line bets and a few handicaps. The variety in esports betting options gives users a chance to earn higher profits based on a well-timed and researched bet.
Injury
On the field, players of traditional sports are more prone to physical injuries than their eSports counterparts. While eSports players are also vulnerable to long-term fatigue from traveling and restless training and other psychological challenges, a relative lack of spontaneous injuries means the bettors have one less factor to worry about – an unpredictable event that could ruin their bet.
Weather
Talking about unpredictable events, weather plays a big role in determining how a game could play out. In esports, logically weather erases as an unpredictable factor. 
There are for sure other important factors that make esports betting more engaging and more multifarious. But if you are new to betting, you will have to understand that esports betting is one entirely different thing from sports betting.
How Does Esports Betting Work? 
To understand Esports betting, one must understand the trending concept that Esports brings to the table. You are already aware that Esports inhabit the online sphere while traditional sports take place physically with live professional players. In Esports, however, the gameplay is quite different, and betting odds vary accordingly. Esports brings together video game enthusiasts from around the world and allows them to battle against each other in organized competitions individually or in teams. With the continuous rise of esports, rises betting opportunities for them. Let's have a look at how esports betting works.
There are several different ways to bet on esports. Here's a list of the most popular options. 
Real money betting 
This is the closest to traditional sports betting and is done by placing wagers at agreed odds. You can bet on all kinds of different outcomes, and get paid if the selections are correct.  
Skin betting
A lot of modern video games feature virtual currencies and other items that can be transferred between players. As a result, there are many auction and trade websites where players can buy, sell and swap items and currencies for several of the most popular video games. There are also betting sites where players can use items and currencies to bet with.  
Social betting
Social betting is quite common in the esports community where friends or online contacts place informal bets on the outcome of events between themselves. These bets can be for real money, but they're usually for skins or other items. The terms are agreed on between the two parties and then settled accordingly. 
Challenge betting
Also known as head-to-head betting, this is where gamers compete against each other for real money or items and skins. A lot of gamers simply organize bets among themselves and then settle up once their contest is over. Some websites organize things a little more formally where the players and/or teams pay entry fees to enter a contest, and the winner(s) are rewarded from the proceeds of those fees. These different options are all worth exploring, although some might be more suitable for you than others. There's not much point in getting involved with challenge betting, for example, if you're not much of a gamer yourself. 
There are also some betting tips and strategies you can see through to become a pro in esports betting.
Scope Of Esports Betting Market 
The Esports betting market is a gold mine for those who offer interesting bets on mainstream games. To get a full understanding of how big of a deal it is, let's look at this graph that
shows the eSports betting market revenue worldwide in 2015 and 2020. According to the source, the eSports betting revenue has grown from 24 million U.S. dollars to 1.81 billion in the presented period.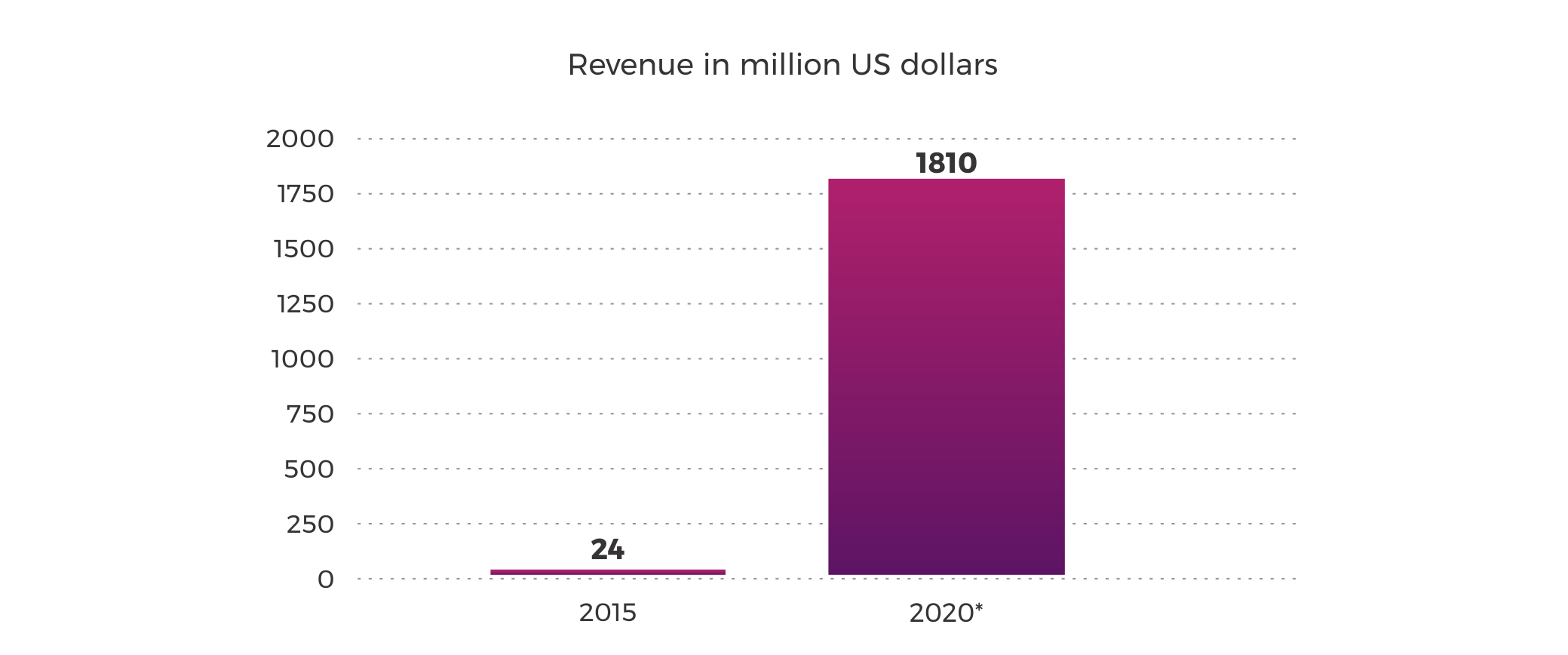 While traditional betting is a fad for middle-aged people, esports bettors mostly are 18-25 years old. Let's see what the common bettor looks like, and why it's important to know your customer.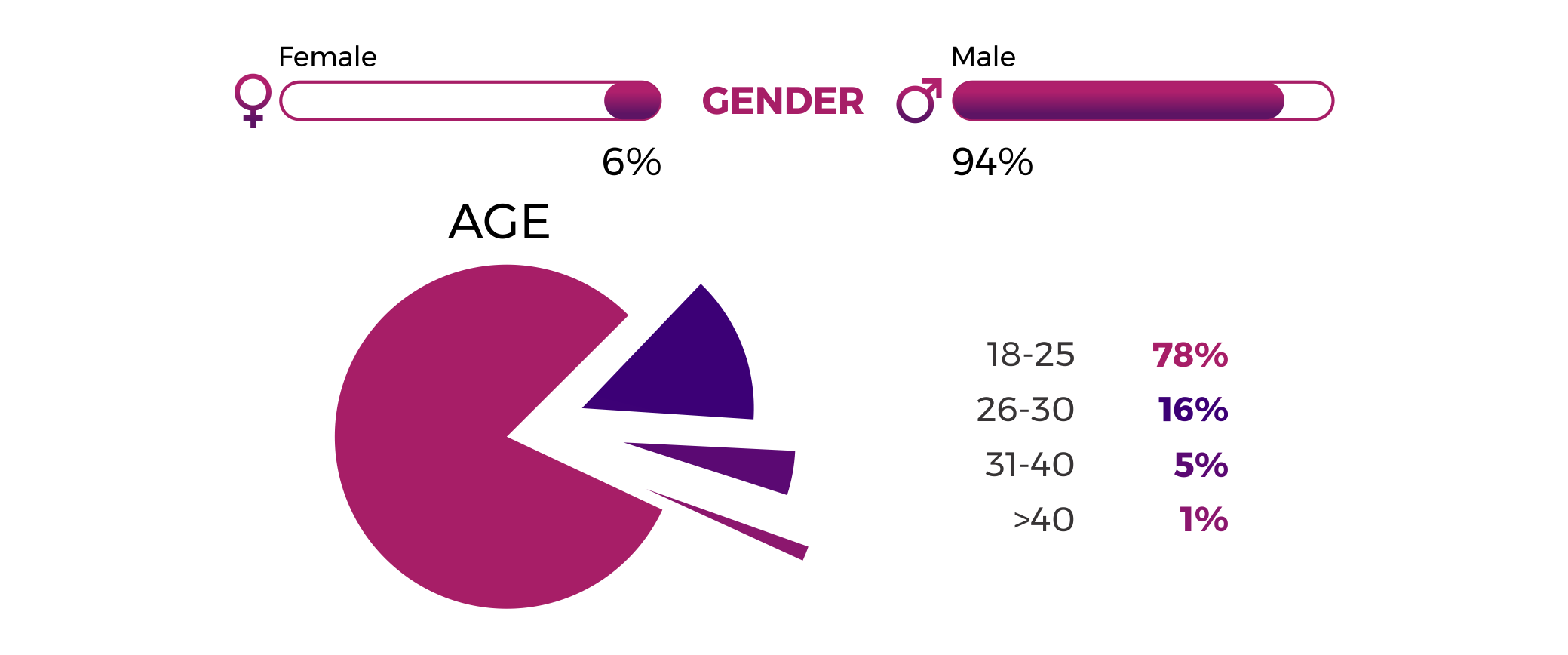 As the amount of money invested in esports continues to grow, along with the number of fans around the world, the quality of esports events has undergone a massive transformation.
Perks of Esports Betting for Sports Betting Businesses
Up until the late-2000s, no bookmaker had taken an esports bet. However, as the popularity of esports has grown, the betting side of the industry has launched and developed to compete with traditional sports (all within the space of a decade). The betting volume on esports titles reflects the overall popularity of the various esports titles with League of Legends, Dota 2, and CS:GO far ahead of any others. As the popularity of esports has surged amongst the betting audience, more and more sportsbooks have shown a willingness to dedicate resources to build up their esports-specific offering. The obvious benefit of an esports betting business is their sole focus on esports which acclaims their specialist esports knowledge and accordance with the esports movement. Betting businesses require new approaches so they can be the best match for their new customers.
What are the Different Esports Genres?  
We have already named a few popular esports including CS::GO, Dota 2, LOL, Call of Duty, Fortnite, and others. Those games have different titles in terms of game mechanics and fall within certain genres: 
Real-Time Strategy
The aim of this genre is normally to defend your base while trying to overtake or destroy your opponent. Usually, you and your opponent start from an equal starting point to build your resources. 
Multiplayer Online Battle Arena
Similar to an action real-time strategy, a MOBA features a team of individual players working together to buy equipment and destroy the opponent's base.  
First Person Shooter
The aim is to kill your opponent(s) or complete/defend objectives while playing through the eyes of the character. 
Fighting
Fighting games are straightforward character vs character fights with whoever defeats their opponent(s) first being the winner. 
Racing
Competitors race against each other on the same map/track with the first player to pass the finish line being the winner.
Sporting
A virtual implementation of traditional sports using the same game rules (like FIFA 19 and NBA 2K19).
Major Esports Tournaments & Leagues 
Esports tournaments are the most awaited events for the fans, and there are some names worth the stir.  
The International
The annual 'world championship' tournament of Dota 2 was first held at Gamescon and has since grown to become the single-largest-prize-pool tournament of esport. The tournament consists of 18 teams: 12 of which qualify through the 'Dota Pro Circuit' – a 5v5 tournament format system whereby the winners receive an invitation to the official event. The prize pool is $40,000,000.  
The Fortnite World Cup
The annual gaming tournament based on Fortnite is currently held each year at the iconic Artur Ashe Stadium in New York. The competition is regarded as one of the greatest esports events of modern time, having the largest prize pool for a 'solo' competitor at $3 million.
Intel Extreme Masters
The Intel Extreme Masters is the longest-running pro gaming tour in the world. The competition is held internationally at different venues each year. The competition is primarily focused on team-play, with separate prize pools for each game. The last event featured a $250,000 prize pool distributed between the top 4 finalist teams, with $125,000 shared between those landing first place.
CS:GO Majors
CS: GO Majors stands for the Counter-Strike: Global Offensive Major Championships. The tournament is centered around the legendary 'Counter-strike' series. 
In Summary
Esports is the language of the younger generation. They not only like to play but also bet on them, which opens up new perspectives for betting businesses. To be on the same line with players, major tournaments are being held every year with large-scale pool prizes, making esports a growing form of entertainment. 
---
Written by Sofi Grigoryan
Sofi Grigoryan is a content writer at Feedconstruct - the top company specialized in delivering sports data. Having a deep understanding of the sports data landscape, Sofi uses her skills to create both compelling and informative content.
Explore More
How to Grow a Betting Business By Using Virtual Sports? 
The Importance of Esports for Betting and Gaming Businesses.